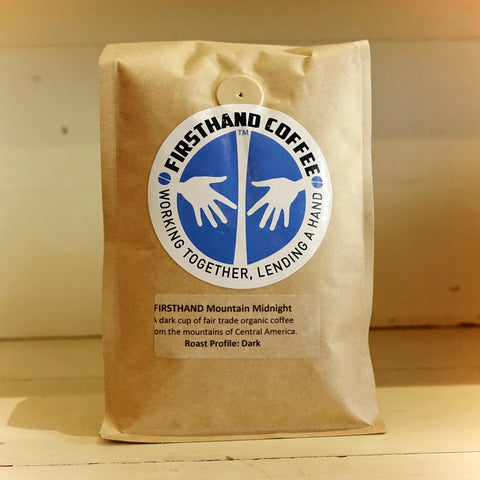 FirstHand Coffee | Mountain Midnight | 1lb Bean
Mountain Midnight is our darkest roasted coffee. It has a straightforward, heavy, aroma with a smooth flavor and unique caramel and butterscotch sweetness in the middle of the cup. The smoky finish and notes of chocolate aftertaste linger long after the last sip. A hearty cup of organic, fair trade coffee from the mountains of Central America.
Roasted locally, small batches, delivered fresh to River Fair Trade weekly. 
Size: 1lb bag - Whole Bean
FIRSTHAND Cooperative is a worker-owned coffee company located in the heart of Appalachia. It began as a student based organization at West Virginia University investing in and partnering with La Hermandad Cooperative in Nicaragua. Inspired by the principles of the fair trade movement, they connect producers and consumers in mountain communities through a fair share guarantee. This commitment to mutual aid and vision for a sharing economy along coffee supply chains supports social enterprise development abroad and right here in our mountain home. FIRSTHAND partners with farmers, local businesses and community organizations to support a solidarity economy. As FIRSTHAND coffee sales continue to grow, so does their capacity to redistribute funds to projects that tackle the root causes of poverty.

---
We Also Recommend
---