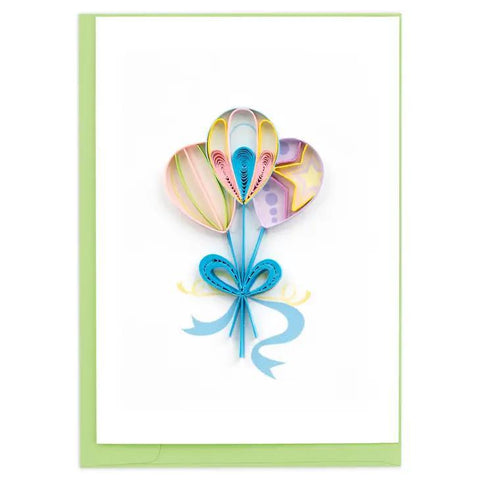 Quilling Card Gift Enclosure | Colorful Balloons
These hand crafted balloons will set everyone dreams soaring. Accented with a quilled blue ribbon this mini card just looks like it belongs at a party. A gift enclosure is perfect for you to share a short message or to personally identify items. They make a wonderful accent to pair with gifts, gift bags, bouquets, and much more!
One of the passionate team of 300+ artisans in Ho Chi Minh City, Vietnam meticulously handcrafts each design. Giving the gift of a Quilling Card is sharing a beautiful lost art form, possibly dating back to ancient Egypt. It is thought the origin and name of this art comes from coiling paper around birds feathers, or quills.
This fair trade company provides a community of talented women the opportunity to sustain a living wage, safety in their work environment, and healthcare for themselves while loving their craft and the outlet of creativity.
~ Blank inside.
~ Envelope included.
~ Size: 2.5 in. x 3.5 in.

*Not a mailable size*
---
We Also Recommend
---