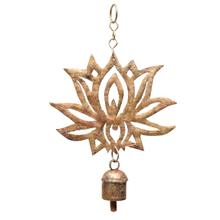 Metal Chime | Hand-cut Lotus
This small hanging wind chime features a hand-cut decorative lotus over a single hand-tuned bell handmade from reused metal.  
A unique process of coating the metal with copper shavings and submerging into fire creates a distinct and rustic look. Each bell is hand tuned to perfection.
Strong, durable and beautiful, this piece is coated in a protective color layer and can be sprayed with a clear coat to further preserve longevity. Enjoy indoors and outdoors. 
Dimensions: Approx 6" L x 5.5" W
Handmade by family artisans in Behat in the northern state of Uttar Pradesh, India.
---
We Also Recommend
---