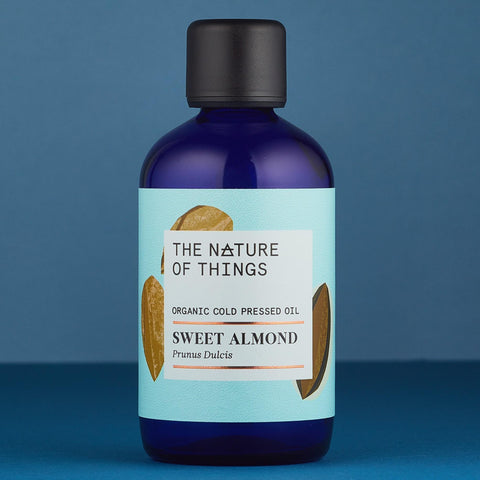 Carrier Oil | Sweet Almond | 100ml
This certified organic, sustainably sourced Sweet Almond Oil is regenerating and moisturizing for dry and sensitive skin. You can use this oil to formulate your own wellness rituals and enhance your days with natural, simple, ethically produced oils. Perfect for combining with a few drops of any of our Organic Essential Oils to create your own recipes and formulas. 

The almond tree (Prunus dulcis) originates in Central Asia. It is cultivated in Mediterranean countries and in California (more than 80% of global production). Its fruit generally contains a single seed, the almond, from which approximately 50% oil is extracted.
Ingredients: 100% pure virgin cold pressed oil of Prunus dulcis (sweet almond)
Parts used: fruit
Size: 100ml bottle


These oils come from all corners of the world: Atlas Cedar from Morocco, Eucalyptus from Spain, Frankincense from Somaliland, Geranium from Egypt, Ginger and Ylang Ylang from Madagascar, Lavender and Clary Sage from France, Lemon and Orange from Italy, Peppermint from the USA, Rosemary from Tunisia, Tea Tree from Australia and Vetiver from Haiti.


Packaging has the highest possible recycling rate, such as glass, aluminium and paper​

Limit operations footprint with reduced energy and water usage

Compensating people fairly and supporting community development

Supporting organizations that help protect the environment and promote responsible business 
Ethically made in Ireland with organic, sustainably sourced ingredients.
---
We Also Recommend
---