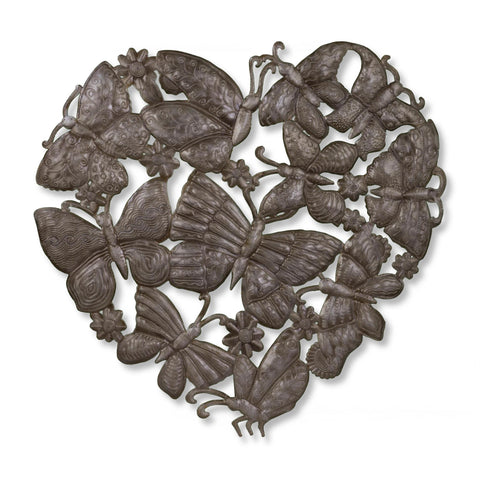 Haitian Metal Art | Heartfelt Butterflies
Our fair trade Haitian Metal Art collection is absolutely incredible. This Heartfelt Butterflies piece will fly right into your home and settle in! This masterful, heart-shaped design features intricately carved butterflies perfect for your special space. Created by Jean Mikerson.

With many goods shipped to Haiti in 55-gallon steel oil drums, there is a ready supply of discarded drums for the artisans to repurpose into amazing, expressive artistic creations. The clanging of hammers, chisels and hammers on sculptures provide constant music! The artisans begin with designs inspired by nature and culture. After each one is shaped, smoothed and decorated, the artist chisels their name proudly onto the stunning work of art.

Haitian steel drum sculptures (fer découpé) are fabulous both indoors and out!

Beyond Borders has a fifteen year history of working with and nurturing Haitian metal artists in Croix-des-Bouquets. There is real economic improvement and real lives bettered through the creation and sharing of this beautiful art.This success is about a true partnership between the Haitian artists and you - our fair trade family!

Size: approx. 23" x 23"


Outdoor care:
Pieces exposed to the elements will generally not remain glossy and over time will take on a flat patina and will eventually rust. To deter the corrosion, thoroughly spray it with WD-40® and do not wipe the spray. You will likely need to reapply once a year.

Indoor care:
If scratched or worn, apply a light spray of a clear varnish made for metal (gloss or satin finish) Scratches should disappear immediately.
If you have some rust and you want to remove it, first use fine sandpaper, then apply the spray clear enamel.

Handcrafted by fair trade artisans in Haiti.
---
We Also Recommend
---