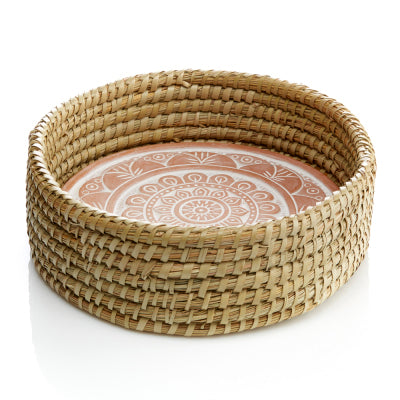 Breadwarmer & Basket | Mandala
This fair trade Mandala Breadwarmer & Basket is crafted from whitewashed terra cotta stone and hand carved with a lovely Indian-inspired design.  It sits within a handwoven kaisa grass basket with palm wrap. Warmer is oven safe. 
Basket sizw: approx. 3 1/2"h x 11"dia

Use and Care instructions: Rinse before first use. Dry well. Preheat oven to 350°F. Place terracotta stone in oven and bake for 10 minutes. Do not put basket in oven. Handling carefully, place stone in basket. For best results, wrap food in towel and place on warmer. To clean, rinse with water. Not dishwasher safe.
Handmade in Bangladesh by artisans employed with CORR. This organization enables rural, illiterate woman to earn a fair wage and have access to education for their children. CORR also benefits small-scale farmers who produce environmentally friendly jute.
---
We Also Recommend
---