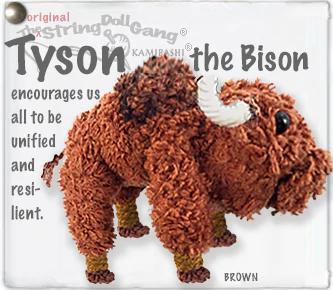 String Doll | Tyson the Bison
Tyson the Bison from the Kamibashi String Doll Gang® collection is expertly hand crafted from one piece of string and durable enough to use as a keychain, bag charm, or however you see fit! With over 100 unique characters to choose from, each has a special, good-luck power that is written on a fabric tag, making them a wonderful and collectible gift for yourself and everyone you know.
Did you know that in 2016, the American bison, a conservation success story, became the national mammal of the United States? No wonder Tyson the Bison encourages us all to be unified and resilient.
To see these 1,000 lb. (female) to 2,000 lb. (male) majestic wild animals in person, head to Yellowstone National Park, where there are close to 5,000 roaming free. Just don't get too close or you may find yourself in the news and very likely, the hospital.
Doll size: approx 2"-3"
Includes lobster claw keychain (see photo example)
Hand made by fair trade artisans in Chiang Mai, northern Thailand.
---
We Also Recommend
---